What is ERP?
What is ERP? It is question we often face. Enterprise Resource Planning (ERP) is an integrated suite of business applications that operates in, or near, real time.  An ERP merges all business functions into one system including manufacturing, distribution, finance, HR, sales, procurement and customer service. Because the modules are integrated and share a common data model, an ERP system facilitates information flow between all business functions.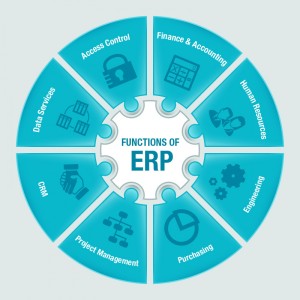 What are the benefits of ERP?
There can be many benefits of implementing an ERP system, but here's our top 5:
ERP can increase business performance and profitability by helping to keep a company's business processes running efficiently and effectively.
ERP delivers real-time, integrated data that enables faster, more informed decision making.
ERP helps create a more agile, flexible company that adapts better to change.
ERP provides increased opportunities for collaboration and cross-department working.
ERP supports cost effective expansion and growth and drives adoption of best practices
What are the risks of ERP?
Implementing an ERP system is among the most expensive, time-consuming and complicated projects a business can undertake.  The potential for the following are significant, and can have an equally significant adverse impact on the business:
Delays
Cost overruns
Disruption to operations
Employee resistance
Business benefits not realised
What is Optimum's role?
Optimum are an independent, solution-agnostic consulting firm providing expertise across the full ERP lifecycle – from strategy, selection and implementation through to optimisation and support.  That means we can provide skills and knowledge at a level that neither software vendors or internal teams can match.
We help businesses avoid the pitfalls of a poorly selected or managed ERP implementation.
Any questions?
Just give us a call or drop us a line if you've any questions about ERP:
> Email: info@optimumpps.co.uk 
> Phone: +44(0)121 698 8511