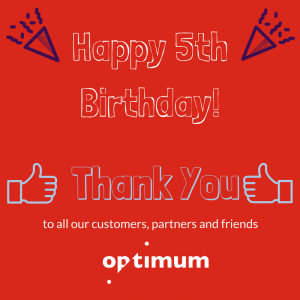 So the festivities of Christmas and New Year are over for most people. But the team at Optimum are squeezing one more celebration in to January as this month marks our 5th birthday. (Although as everyone is on a health and fitness campaign in preparation for the team 10k challenge in March, it might need to be a dry celebration…)
According to one article when we googled 'common characteristics of five year olds':
Five, overall, is a time of great happiness. Life is "good," says the five-year-old. Five is also a time of great change.
And that sounded like a pretty good summary for us too 🙂
The first 5 years have been fantastic for us and we just wanted to take the opportunity to thank our customers, partners and of course the team for all their hard work. Here's to the next 5!
All the best for 2017 – it's set to be another exciting year for us as we continue to deliver against our own growth plans, as well as of course helping our customers to grow and succeed.
Steve & Lee Ann