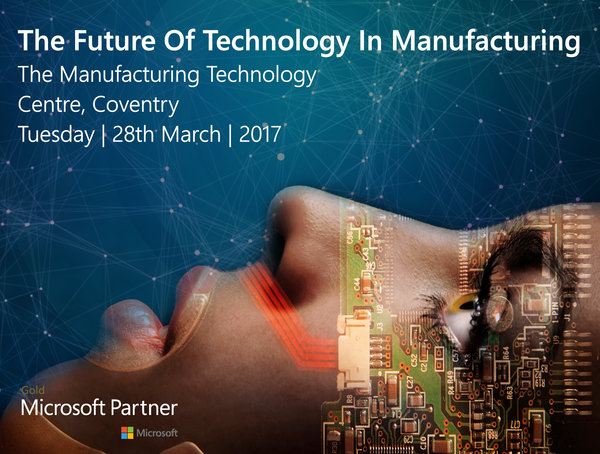 This week we were invited to attend HSO's event about the future of technology in manufacturing. HSO are a European Microsoft Dynamics partner and they had gathered a selection of thought leaders from the industry and from the MTC itself to talk at the event, as well as inviting a small group of Microsoft software partners to demonstrate how their offerings fit in to the Dynamics 365 platform. We were keen to attend for a couple of reasons:
(i) Given our own manufacturing sector focus and Midlands base, it's good to be involved in what's going on in the area
(ii) Given the fairly recent changes in the Dynamics solution offerings with the Dynamics 365 platform approach, we were interested to learn more both from HSO themselves and also their customer base
(iii) Given that the overarching theme of the event was Industry 4.0, we were keen to hear what the take on this was from the ERP vendor perspective as well as the thought leaders from the MTC who are at the cutting edge of prototypes and proof of concepts for many exciting new developments in this area.
On the Day
Speakers at the event such as Dr Lina Huertas, Head of Technology Strategy for Digital Manufacturing at MTC and Henry Anson, MD for Hennik Group really drove home the need for the manufacturing industry to embrace the 4th industrial revolution. Dr Heurtas stressed that automation and technology does not necessarily mean replacing staff, it means empowering and enabling a workforce to deliver beyond traditional capacity and also allow room for innovation to come from the ground up. She touched upon how embracing the technologies behind Industry 4.0 can:
(i) drive out value from an organisation's data
(ii) make the insights from the data available to the right people
(iii) automate time consuming and resource-consuming processes and
(iv) allow for the creation of new business models.
Henry Anson, expanded upon these points by discussing the results of The Manufacturer's recent industry survey. He delivered fairly alarming statistics such as 60% of UK manufacturers are not engaged with Industry 4.0 – the implication being that this falls short of other countries around the world and the concern is that UK manufacturing needs to wake up and embrace the technological changes now or it will be too late to have any chance to compete on the global stage. Henry touched on a couple of other points that are obviously particularly pertinent to us at Optimum:
(i) that manufacturers are looking more and more to implement all encompassing business systems these days rather than the traditionally siloed approach to an ERP, a CRM, BI etc
(ii) but to replace the multiple solutions currently in use, they are struggling to implement these effectively and a key reason is lack of robust change management
He spoke passionately about the need to increase the efforts in getting the industry to adapt it's people, processes and systems to be able to embrace the benefits that the technologies behind Industry 4.0 can deliver.
Takeaway for technology in manufacturing
A key takeaway from the event was that Industry 4.0 is here and now – it's no longer the 'blue sky thinking' future state.  There are more and more live industrial applications across many areas of manufacturing and supply chain proving the point.  And it's not just the large, well known corporations that you'd expect to be at the forefront like Siemens and Bosch for example. 
Mike Stanbridge, Enterprise Systems Director at AB Agri gave some really innovative and exciting examples of what they're doing on their journey.  And that's a key point – digital transformation, Industry 4.0 – whatever terminology you use, it's a journey, it's not an overnight change.  But the fact is that it's pretty evident that UK manufacturer's need to start their journey now.  And what's that line about every journey starting with a single step?