The recent release of the Charity Digital Skills Report 2021 makes for interesting reading for those involved in the charity sector. This UK-based report is now in its fifth year and shines a light on the state of digital skills across the charity sector.
This year has seen unprecedented change across the sector in response to the pandemic. Developments have been positive with basic digital skills improving and more charities taking a strategic approach to how they embrace digital.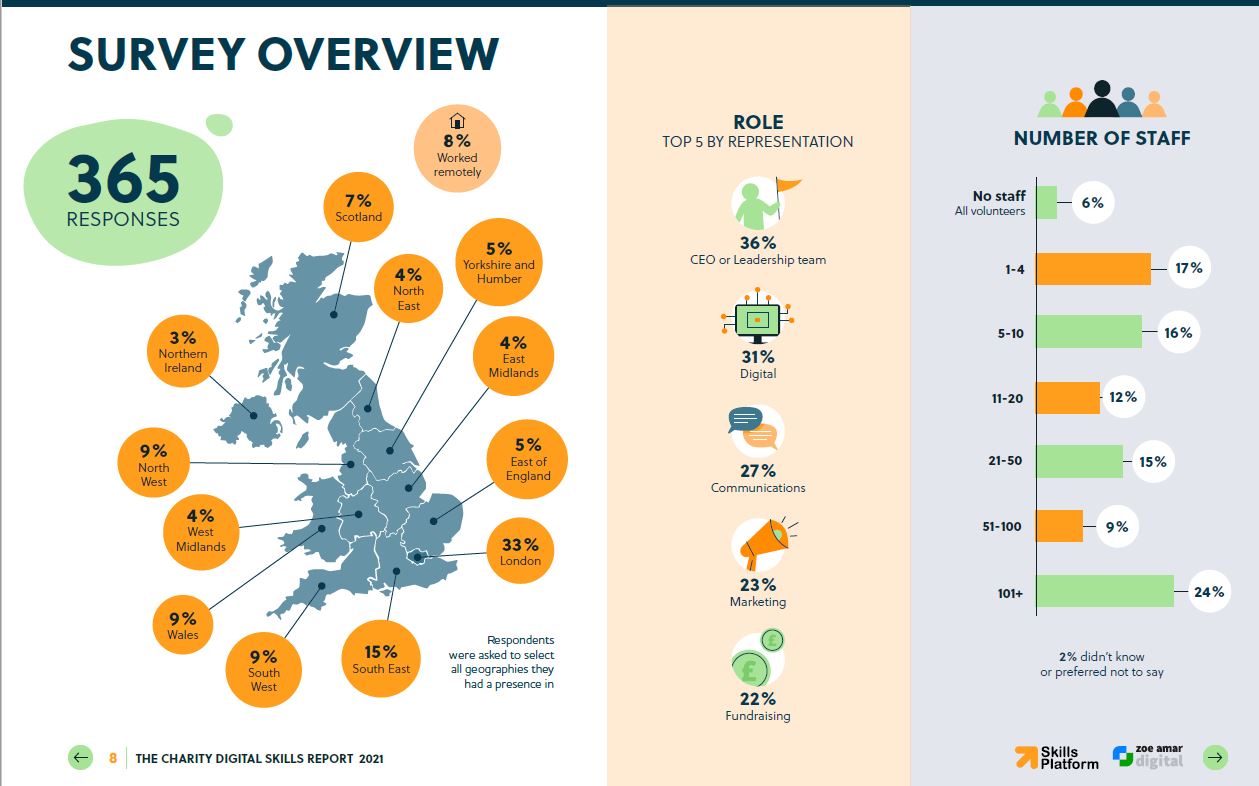 Finding One – The Impact of Covid
When last year's report was published, we were in the early stages of the first wave. While it had already started to impact on charities, it was not clear what the full impact would be.
This year's report highlights both the positive and negative results of the pandemic on digital adoption, with a massive 83% of charities changing their services in response to demand. One of the great steps forward has been 78% of respondents using digital to reach new audiences, which was vital during lockdown.
However, there has been challenges with digital inclusion as 52% were worried about excluding people or groups. This was also seen in digital service delivery, where 22% had cancelled some services due to users not having the tech or skills required.
Finding Two – Future Plans & Aspirations
Planning for a digital future has become a priority for 67% of respondents with 63% planning to invest more in digital skills. Many charities are also committed to digital service delivery with 71% planning to offer services as part of a hybrid delivery model.
For the aspirations of charities, 42% rate improving their digital channels as top priority, the second year this has been the case. The second most important priority is using data more effectively, with 30% wanting to focus on this area.
Finding Three – Digital Skills
Digital skills have always been a weak area withing charities with 48% of respondents last year believing staff skills were hampering digital efforts. This year we have seen some very positive increase though, with the number of charities rating themselves as having excellent basic digital skills going from 29% to 56%. This is a great result as having these basic skills are a requirement to move onto more advanced digital adoption.
Major skill gaps exist in the managing an analysing of data, with 36% rating their skills as poor. This ties in with 43% feeling they are poor at learning more about users, something that requires good knowledge about data.
Moving forward, working on advanced skills will need to be a key area for charities. To make informed decisions, charities need to use data and 47% admit they want to get more from their data.
Finding Four – Board Level Skills
One very encouraging statistic from the Charity Digital Skills Report 2021 is that only 20% of respondents say that skills are low amongst trustees. This is down from 31.5% last year highlighting that progress is being made in this area.
There has been an increase in the number of respondents who feel there is room for improvement in digital skills at board level, up 3.5% to 38% total. 32% of boards have provided buy-in and support for digital which highlights a real problem area to be addressed.
Overall, board level has been a mixed result. Embracing a digital culture at all levels is required to truly make the most out of tech so hopefully we see more board members embracing digital in the future.
Conclusion
The Charity Digital Skills Report 2021 shows a mixed bag this year with good progress being made in basic areas but still room for improvement in more advanced areas. The pandemic has certainly accelerated adoption of digital but has also shown that a variety in ways of working can deliver for both staff and users.
While we only touched on a few areas in this article, there are plenty more in the full Charity Digital Skills report 2021 and it is worth taking the time to read through it and see how your charity compares to the industry. You can sign up for your copy here.