The recently released Charity Digital Skills report makes for interesting reading for those involved in the charity sector. This UK-based report is now in its fourth year and shines a light on the state of digital skills and adoption across the charity sector.
This year's report is especially important as charities have relied on digital to respond to Covid-19 to continue delivering services. Remote working, digital fundraising, and online service delivery are all commonplace now. We could come to see 2020 as the year that forced many charities to think more about digital and embrace new practices.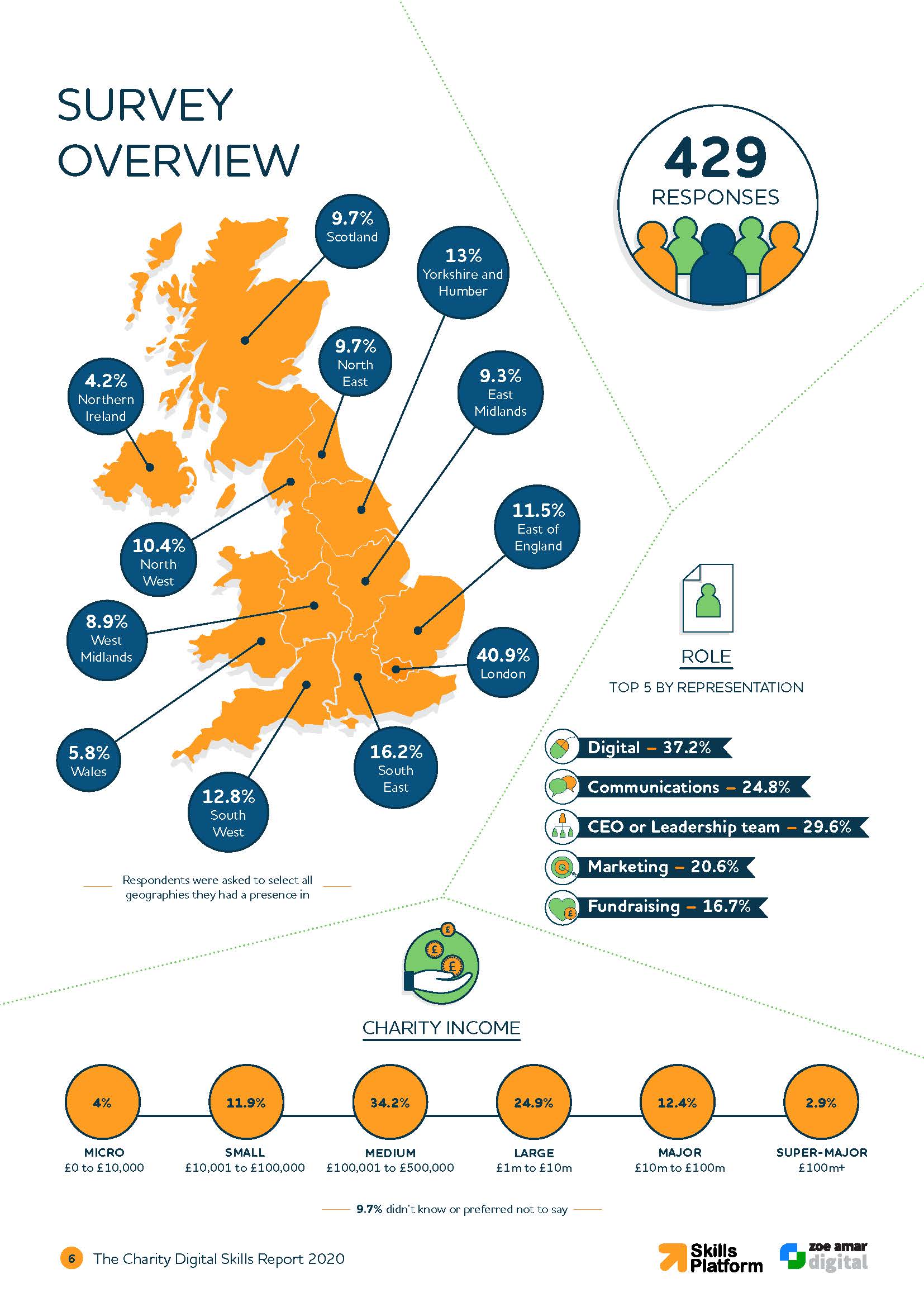 Finding 1 – Covid-19 Has Had a Big Impact
While this won't come as much of a shock, Covid-19 has been the biggest cause of digital disruption on the sector this year, with a staggering 66% of respondents now delivering all work remotely!
With two thirds of the industry impacted, the need for digital ways of working is clear. This has created a demand for guidance on how to digitise face-to-face services with 46% of respondents looking for support in this area. Finally, 43% want financial support for new technical equipment, software, or tools.
However, it is hard for charities to address these issues, with 37% saying they don't have the income to invest in digital. This increases the chance of some charities being left behind especially when the adoption of digital needs to accelerate across the sector.
Finding 2 – The Same Internal Barriers Exist
There have been two very common themes across all Charity Digital Skills reports, lack of funding and lack of staff skills is hindering digital efforts. This year 50% of respondents believed lack of funding was a barrier and 48% believed lack of staff skills was causing issues.
To make matters worse 51% of charities do not have a strategy for digital in place. unfortunately, it is often pushed to the side, even though demand exists, as 41% want to develop a strategy and integrate digital into their organisation.
Hopefully the impact of Covid-19 will force more charities to think strategy so they can start finding smarter ways of working.
Finding 3 – Leadership Need to Take Control
The findings are very clear, 67% of respondents want their leadership team to offer a clear vision of what digital could help them achieve. It is a pressing need and leadership should take responsibility for starting to drive change from the top down.
Many leadership boards acknowledge they need to develop their digital skills, as 66% are concerned that they will miss out on opportunities to help users and 51% believe brand and reputation could be affected if they don't.
Leadership should start building the knowledge to lead confidently when it comes to digital and join the 4% who are investing in digital training for trustees.
Wrapping Up
While we only touched on a few areas in this article, there are plenty more in the full Charity Digital Skills report and it is worth taking the time to read through it and see how your charity compares to the industry. You can find the full report here.
If your charity is interested in seeing how a digital transformation project could boost how they deliver services then fill out the contact form below or reach us through our contact page