Introduction
For an organisation looking to de-silo their departments and improve business processes, Enterprise Resource Planning can often be the best solution for the job. Enterprise Resource Planning (better known as ERP) is software which seeks to merge and streamline the business processes of a company to provide a single source of truth. The idea is that you can have all business functions and departments using the one system –Sales, Manufacturing, Finance and everything in between. ERP offers a single, real-time, integrated system – so everyone around the business can see the same information. This any time access fosters joined up working across the business.
ERP vendors often specialise in different industries and operations, allowing companies to find a solution which is focused on their specific processes and needs. However, an ERP implementation can present its own challenges and are notoriously difficult. There is still a huge proportion of failed or sub-standard ERP implementation projects.
Through this guide we will delve into the what, why and where of ERP, as well as looking at the key aspects of implementation. We'll address some key considerations and then finally we'll look at signs your ERP system may not be working and how you can tackle it.
This guide to Enterprise Resource Planning covers:
What is Enterprise Resource Planning (ERP)?
An ERP system collects shared transactional data from many departments to support a variety of functions. Considering the various processes that make up a business – from inventory and order management to accounting and human resources – it's difficult to comprehend the sheer amount of data that one business needs to consider to make informed decisions. At the most basic level, ERP software no longer treats these functions as stand-alone and considers them part of the chain of the wider business processes. Thus, an ERP system is designed around a common, defined data structure which often has a common database.
Over time, ERP evolved as an on-premise solution incorporating various aspects of Material Requirements Planning (MRP) such as production planning, scheduling and inventory management with applications such as HR, payroll, CRM and finance. In recent years, many ERP vendors have moved their offerings to the cloud and expanded to include aspects of business intelligence (BI), sales force automation (SFA), marketing automation and ecommerce functionalities. This has increased ERP adoption across most industries and company sizes.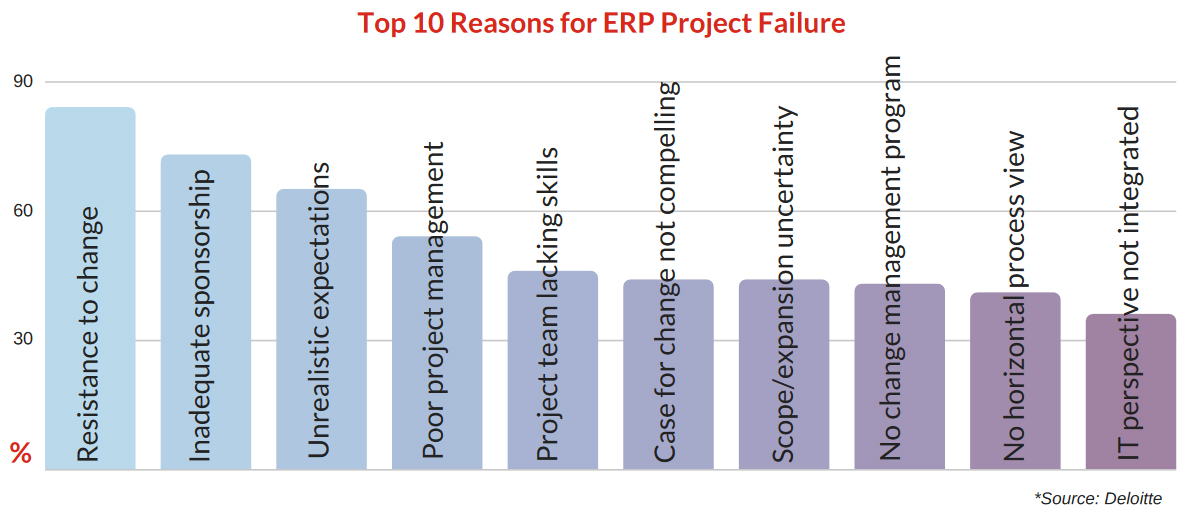 With the growth of cloud-based solutions ERP software has become more affordable, fuelling high growth, and has also made systems more accessible and easier to install. Additionally, software vendors are offering elements of synchronised reporting tools and automation capabilities.
This steady growth of functionality allows employees across a range of different departments to use the same data for their varying needs. The benefits of a well implemented ERP solution reflect the breadth of functions it may cover.
Benefits of ERP
So what are the benefits of ERP? It's important to note that it is not technology alone which creates these benefits, but the operation of people, processes and the systems which can bring about these benefits. We've identified 5 key benefits of a well implemented and operating ERP solution;
1. Improved collaboration
With a single database supporting an organisation, you can move away from a silo mentality towards a single version of the truth. By working from the same, consistent information, departments and offices across the world can make informed decisions. This helps ensure that the business is quick to tackle problems before they arise.
2. Decreased costs
Although ERP is often a large investment, once implemented it can streamline your business processes and improve efficiency which should decrease business operating costs across the whole organisation. With improved business insights, ERP should also drive better decision making which can boost growth and profit. Delays in the right information being available can be costly and ERP reduces this prevalent business problem.
3. Informed decision making
Reporting and analytics is now a key feature when choosing any system. Whether the reporting tool is embedded in the ERP system or a separate BI tool – the key is the value in the consolidated data. The insights given by ERP can have huge benefit for decision makers. A single, unified report gives increased visibility across departments. With reporting tools pulling the data from a single ERP, you can end the need for rekeying vital data. This helps by minimizing the risk of human error and cuts down on your data collection time.
4. Productivity
ERP can boost productivity in a range of departments through the automation of tasks and processes. Correct ERP implementation can remove or reduce the time spent on repetitive, manual tasks – freeing you to focus on bringing the most value to your business. Many ERP systems now include compliance reporting functions, which can track changes in compliance regulations and give real time updates.
5. Customer Service
The final, and most important benefit to your business, is the improvement in the delivery of customer service. Although harder to measure, it is clear that with informed action, improved collaboration and productivity, your customers will feel the benefits of your ERP without even knowing it.
Where and When ERP is Used
Enterprise Resource Planning offerings now span several tiers for all sizes of businesses. From Tier 1 aimed at large, global corporations, to Tier 2 aimed at mid-level organisations, to Tier 3 for smaller SMEs to put in place ERP. Although ERP can provide most companies with benefits, it is not for every company. For some the costs will still be a barrier. Others may need or prefer a suite of best of breed solutions, especially as a niche operation.
ERP has always been prevalent in the Manufacturing sector, given that it evolved from the original MRP systems. But, these days ERP systems cover almost every industry and sector.
A common trigger for CEOs and CFOs to consider ERP implementation is growth. Whether this is growing beyond the basic systems which lead to manual data compilation and lack of insights, or growth beyond a current ERP which is no longer fit for purpose. It is often best to consider an ERP implementation or replacement before your current processes begin to struggle too much. If you have grown the business to a level that people and processes are already under strain, then adding demands and stress of a business-critical ERP project is not an ideal environment.
So, when and where can ERP be best used? Below we'll cover some examples of the best use cases for ERP implementation.
Manufacturers looking to integrate
Manufacturers who want to optimise their business processes and cut costs is a common theme to our ERP projects. These companies focus on systems designed to solve issues with order tracking and production. You can follow orders all the way through from origination to completion and payment in a single system. The benefits of ERP can materialise in all aspects of a manufacturing use case, from process automations to decreased costs.
Industry-focused company who wants a tailored ERP
From charities and healthcare to food and drink, ERP is configurable to specific industry needs. For some, opting for an industry-tailored solution rather than a generic ERP solution will be most beneficial in the long term. This will also have the biggest boost to the company's operations.
Companies experiencing high growth
For companies experiencing high growth there is a key need for flexibility and scalability in any system. On average, a well implemented ERP has a life span of between 7 and 10 years. After this it either becomes obsolete or falls behind the pace of the business. To achieve the most out of your system it is important that you consider where your business is going and how it will scale over time. As a result of this, ERP implementation partners like ourselves tend to focus on 'to be' processes. The growth in cloud ERP has increased opportunities for scalability as updates complete in the background, without impact to business operations.
A recent merger or acquisition
A key time to consider ERP is following a merger or acquisition. This allows you to set forth new processes and improved ways of working and overhaul old systems.

After considering what ERP can do, its benefits and where it can be best used, it is important to consider a range of factors before you embark on an implementation project. An initial consideration is if your ERP could be fit for purpose even if it doesn't appear to be in its current state. We have carried out many optimisations instead of replacing current systems which started far from fit for purpose.
Things to Consider Before Implementing ERP
Whether you are implementing ERP for the first time in your business, or replacing a current system, there are many things to consider.
1. Cost
A very obvious consideration, but important nonetheless. It can be a minefield to get a clear view and like for like comparison on the system costs. Since cloud-ERP arrived things have further complicated by having subscription-based costs versus on-premise versus hybrid to consider. And that's before you get to implementation services, support costs and getting a realistic picture of what's required for a successful implementation.
2. Vendor industry experience
Consider how much experience specific vendors have in your industry. The breadth and depth of ERP functions means that often it is wise to consider vendors who have more specified knowledge. This ensures your solution is a strong fit to your business requirements and avoids expensive modifications.
3. Business size
Depending on the size of your business, ERP vendors of certain tiers may not be suitable. It is worthwhile asking what size of business is typical for a vendor. Too big or too small are both undesirable. If you see your company growing fast, be sure to explore whether the solution can cope.
4. Technology Roadmap
Ensure the ERP vendors technology currently and going forward align with your technology strategy. Be comfortable that not only is it a good fit now, but is it likely to keep pace with your own ambitions going forward. What has been their track record in keeping pace with technology changes so far and their commitment to the future? After all, you want to put in place an ERP system that will last the long haul!
5. Resources
Often underbudgeted and under called, ensure you have a realistic view on what it takes to deliver a successful project. Consider your own resource requirements and how that aligns with capability and capacity. Get a clear understanding of what the vendor will and will not do and what they will be expecting you to do. And we recommend partnering with an independent ERP consultancy, like ourselves, to help deliver a successful ERP implementation. Do you have the required levels of project management, change management and solution management to go it alone?
6. Change Management
A key consideration when implementing any new change to your business is the impact on your staff. An ERP implementation is a massive business-wide change. It is critical that you address the change management aspects through the whole project lifecycle to ensure success. Staff buy-in is a massive factor in the success of any ERP project. How are you going to manage this aspect?
So, you've considered all the options, you've implemented your new ERP solution – how do you tell if it is flourishing or failing? Below we'll explore the symptoms of a failing ERP.
Signs your ERP System is Failing
At its most basic level, your ERP should be driving your business to be more efficient, productive and profitable. Although there is often focus on the ERP implementation projects which run over budget (estimated at 54%) or projects which take longer than expected (over 57%), if your ERP is not delivering ongoing value then it is failing..
So what are the signs? Below we'll cover 5 key signs that your ERP is not fit for purpose.
1. Low staff engagement
Your staff are using another system as a supplement – or worse, they are not using the system at all. If you are noticing an increase in staff workarounds be sure to question why. Besides low productivity and efficiency, working outside of a system ruins the purpose of the investment.
2. Slow systems
Slowing or disparate systems can be a sure sign that your ERP is not fit for purpose. If your ERP is beginning to slow to a crawl or is not able to integrate with new systems such as your CRM, HR or WMS it may be time to upgrade. With disparate systems you will find a lack of visibility, reduced data quality, impaired decision making and increase in the use of manual processes. These will all work against the effectiveness of your ERP.
3. Enterprise Resource Planning ability not matching needs
If you notice that your ERP is no longer aligned with your business needs, it is often a sign that it is failing you. This could be a lack of flexibility, meaning the system is not fit for changes within your business. Or your company has outgrown an overly customized solution, ask whether it provides you with the value you expect.
4. Time consuming
Spending a disproportionate amount of time 'battling' your data? Trying to find or consolidate information across various systems and spreadsheets will increase your lack of visibility. If your system is complex, ill defined and ineffectively used, then the data quality, reliability and accessibility is poor.
5. Resource drain
Although ERP solutions are often highly customisable, there can be a point of over customisation. As a result, you may find yourself spending more time managing your ERP, struggling with high maintenance costs, difficulty with ongoing support or increasing project implementation timescales.
Many of these problems start from a poor implementation of your ERP solution in the first place. The importance of getting it right first time is of paramount importance. A software-led, rather than a business-led, approach is often the root cause of these issues. Too much focus is on the system aspects and not enough on the people, process and change management areas.
So how do you fix a failing ERP? We've identified several key solutions to some of these problems.
How do you Fix a Failing Enterprise Resource Planning System?
1. Engage current users
Identify and involve key players from each department at every stage. These will be the ultimate users who can provide valuable insight into your existing processes and systems, with knowledge on what works and what doesn't. With these key players onboard you can expect greater buy in from the rest of the work force. This can have a long-lasting effect on the success and utilisation of your ERP. Beyond the initial implementation, there must be a continued commitment to ongoing improvements. You must be willing to install changes when necessary with sustained investment. If it is too difficult to achieve improvements or request further spend on systems, your staff may revert to using workarounds.
2. Understand your data quality
Start a new implementation project with 'To Be' processes and a drive for data quality and data management. This is an area which is often underestimated despite the length of time and effort it can take to undo years of bad data practices. If you are lacking accessibility and reliability in your data, you may need to go back to basics by focusing on cleaning up your data practices. If you do not have a foundation of good data, spend on business intelligence tools, reports and KPIs will become worthless.
3. Think about the future
Ensure your solution is flexible and allows integrations. Though you may not need integrations now, it can be costly and limiting if you need to integrate with other business systems in the future. Be sure to understand the integration possibilities, established APIs or bespoke interface approaches of the solutions you are considering. It is worth noting that integrations in the future can add value out of your existing systems rather than a whole scale change.
4. Think about future obstacles
Consider any other barriers to change you may face in the future – such as vendor costs, resources or system flexibility. Understand where barriers are in the solutions you consider and prioritise which may affect you the most in the future.
As mentioned previously, we would always recommend starting off with a business-led approach, considering how software can mould around the needs of your business – rather than moulding your business around the limitations of the software. Fundamentally, we believe that all system change projects require a holistic, in depth and analytical approach to avoid failure and achieve success.
Conclusion
A well-implemented ERP system can be hugely beneficial and effective to businesses in any industry looking to streamline their processes and increase their productivity, effectiveness and profitability. As always, we've highlighted the need for people, processes and systems to work together through implementation and beyond to ensure you make the most of your ERP.
If you want more information on how Optimum can help you get the most out of your ERP then check out our ERP Services page