A digital strategy for a charity is an idea, that encompasses both an initial plan of how to get from your "As Is" to your "To Be", but also the larger approach of helping define how your organisation will operate. This will lay out how digital ways of working should be used within your charity over the coming years and the processes that will be needed to support this.
Why is a strategy essential?
A digital strategy has many benefits for a charity. Firstly, it allows you to best understand what your needs are and what your aim is. Without this, you may focus on areas that are not essential or overlook important parts of your charity.
Secondly, it allows you to prioritise spending in different areas. Without creating a strategy, the money available may be mismanaged and wrongly assigned. Letting spend get out of control can quickly be the downfall of a charity's efforts to embrace digital.
Thirdly, it helps with the mobilisation of resources. Assigning roles to different members of staff is essential in operating an effective digitisation project. A strategy allows for roles to first be identified, and then assigned to the appropriate person/people.
Finally, a strategy can act as a guide, reminding you of what is next, how far you come, and how far you have left to go. This is vital for keeping things on track and managing the timeline of any project.
Why should you digitise?
For charities who do not want to be left behind by their peers, it is vital to be looking at digital ways of working. Digitising can be as drastic or as subtle as suits your charity, ranging from within individual operations, to changing the entire structure of your organisation. And having a digital strategy for a charity goes a long way in ensuring the best chance of success.

So, what areas should you consider digitising and what benefits can you expect? Let us look at some of the major ones below.
Delivering Services
Digitisation can provide your service users with a more effective way to get in contact, ask questions, or experience what you offer. For example, the use of chatbots is a convenient way to save time for both service users and your staff and a more informative, interactive website can also do this by providing answers to questions before they are asked.
You can also expand how or where your service is delivered using laptops or tablet devices. People in remote locations can be easier to reach and workers can more easily capture and store notes through digital means rather than traditional handwritten notes.
Internal Systems
The systems and processes are the bread and butter to operations. For staff to provide the best possible service they can, the functioning of the organisation must be comprehensive, yet simple.
Digitisation can achieve this.
Interconnectivity between different departments, such as finance and HR, makes it easier for information to be passed around the organisation with as few complications as possible. Furthermore, effective internal systems can allow different departments to run specialised software, and still be able to share this information with others.
Data
Data is a vital part of understanding your demographics, both for fundraising and service users. Collecting, sharing, and storing data is done far more effectively through specialised digital methods. These methods can also help you analyse and interpret this data. All of this will be done far easier, and cheaper, than if it were to be done manually, or by an outdated system.
Communications
It is essential to have an effective way of communication with all relevant parties: users, funders, and partners. Digitising makes it easier to do this, through the use of the website, email, and social media.
The Impact of Covid-19
Digitising has never been so important. Covid-19 has caused a seismic shift to the functioning of companies. Remote working and less time in the office has made interconnectivity, and availability of online resources, essential for teams to work effectively.
Charities are no exception to this, with over 83% adapting their services to react to Covid-19. Without adapting to this newly digitised world, charities, and the services they provide, can suffer. 1 in 5 charities had to cancel at least one service throughout the pandemic due to not having the digital capabilities – both skills and tech – to support it.
The easing of restrictions has allowed businesses to return to office working, however, most charities are still maintaining some sense of a digital workplace. Over two-thirds of charities are continuing with a hybrid work model, with a mixture of office and remote working. Only 7% of charities polled are opting to have a full return to the office.
In the years preceding the pandemic, there was a small steady increase in the percentage of charities with a digital strategy. There was an increase from 48% in 2019 to 49% in 2020. The need for digitisation that was exacerbated by the response of COVID-19 is highlighted in the 2021 figures, which show that 60% of charities now have a digitisation strategy.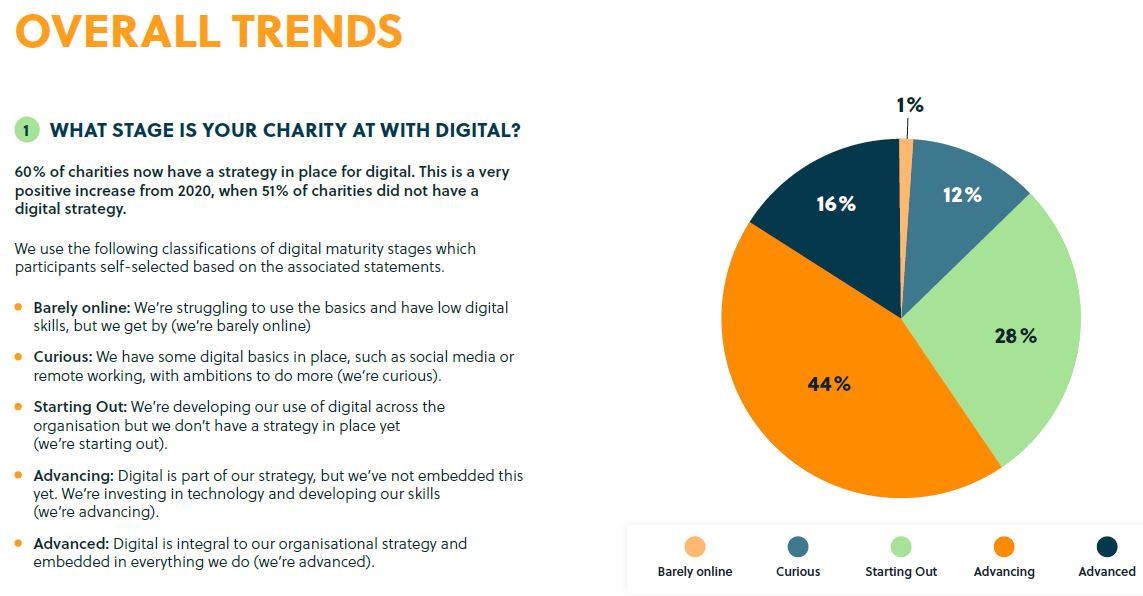 Conclusion to Digital Strategy for a Charity
A digital strategy for a charity is essential in this age of growing digitisation, which has been exacerbated as a response to Covid-19.
When deciding to formulate a strategy, focus on what your end goal is, and work backwards. Understand the needs of your business, communicating with staff and service users to see where your strong points are, and where you are weak. Creating a thorough plan is essential, allowing for the correct allocation of resources. Your plan is set in order to have a reference to go to, asking where you are and what is next. However, leaving room for unforeseen circumstances is highly advised, as this plan is a guide and not set in stone.
If your charity would like help in creating a digital strategy then contact us today to see how our team of experts can help you.
Figures in this article come from the Charity Digital Skills Report 2021, which can be found here.