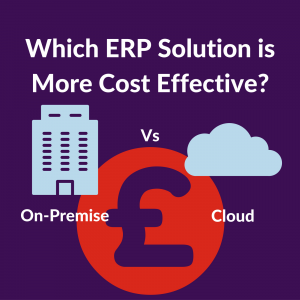 When selecting a new enterprise resource planning (ERP) system, one of the key battles is cloud ERP vs on-premises ERP. Cloud ERP has become much more popular in recent years among small to midsize businesses. But there are still many reasons why a firm might choose a traditional, on-premise system. After previously discussing the security concerns businesses have, it's now time to discuss another major factor – costs.
The biggest difference between these two systems is their deployment and this has a major influence on the costs. For cloud-based ERP, vendors host software on their servers and you access them through an internet connection. With this type of deployment – Saas or Software-as-a-Service – the ERP vendor manages software and data.
On-premise software installs on a company's own computers and servers and their own IT team mange it. Some vendors also offer "hybrid" deployments, in which the business hosts cloud software on-premise.
On-premise software is generally priced on a license fee based on the size of the business or the number of users required. As a result, on-premise ERP systems involve a large investment up front plus annual maintenance along with upgrade costs.
Cloud software uses a monthly or annual subscription for its price. A key difference with cloud-based ERP software is that system upgrades and enhancements release on an ongoing basis, with costs baked into the subscription.
When cloud ERP first made an appearance, the software costs and total cost of ownership was much cheaper than on-premise. However, we're now seeing instances where the cost differentials of each are not so wide apart. It's a different cost and payment model, but the gap in the total cost of ownership is narrowing.
For both approaches, you also need to consider the additional professional services costs – implementation, support, training etc.
The theory is that a cloud implementation should be a shorter, sharper, more agile exercise than traditional ERP. This should mean implementation costs are lower. Again though, that's not as clear cut as it once was.
The management, maintenance and security of the hosted environment the ERP system is hosted on, rests with the supplier. This can provide significant cost savings as organisations don't have to employ a devoted IT team capable of the management of the software and hardware for a system on the scale of ERP.
For many companies though, cloud ERP is not a viable option yet. Many don't have the internet infrastructure to support it: so that's another cost to consider. When starting to strategise and select an ERP the final decision must always come down to what is best for your business model, future plans and the people in your organisation. As with everything in life, sometimes the cheapest option is not the best option, just as much as sometimes the most expensive option isn't the right one. Our advice is to dedicate time and effort up front to drive out a robust business case. Consider the total cost of ownership of the various options and determine a clear ROI path.
Download our new ERP white paper – How To Identify When Your ERP Is Mis-Firing & What To Do About It – HERE