"Big Data is a high volume, velocity and variety of information assets that demand cost-effective, innovative forms of information processing for enhanced insight and decision making"
We've been working with ERP and BI solutions for years and years. We've seen that relationship evolve over time.  Believe it or not, some of the Optimum team were around in the olden days of batch processing in the late 80s.  Now that was proper old school!
With the advent of ERP in the early 90s, sprung the need for data warehouses and real-time, operational reporting.  Then demand grew for more 'decision support' and querying capability.  So around 2000, the reporting and querying / data mining capabilities were merged into what we know today as a business intelligence (BI) system.
We've seen the BI toolsets themselves evolve from the forerunners like Business Objects and Cognos, to the newer offerings with the likes of Qlik and Tableau. We've implemented all of these BI solutions – alongside ERP as the core hub.
To date, much of the emphasis has been on Reporting, Analysis and Dashboards.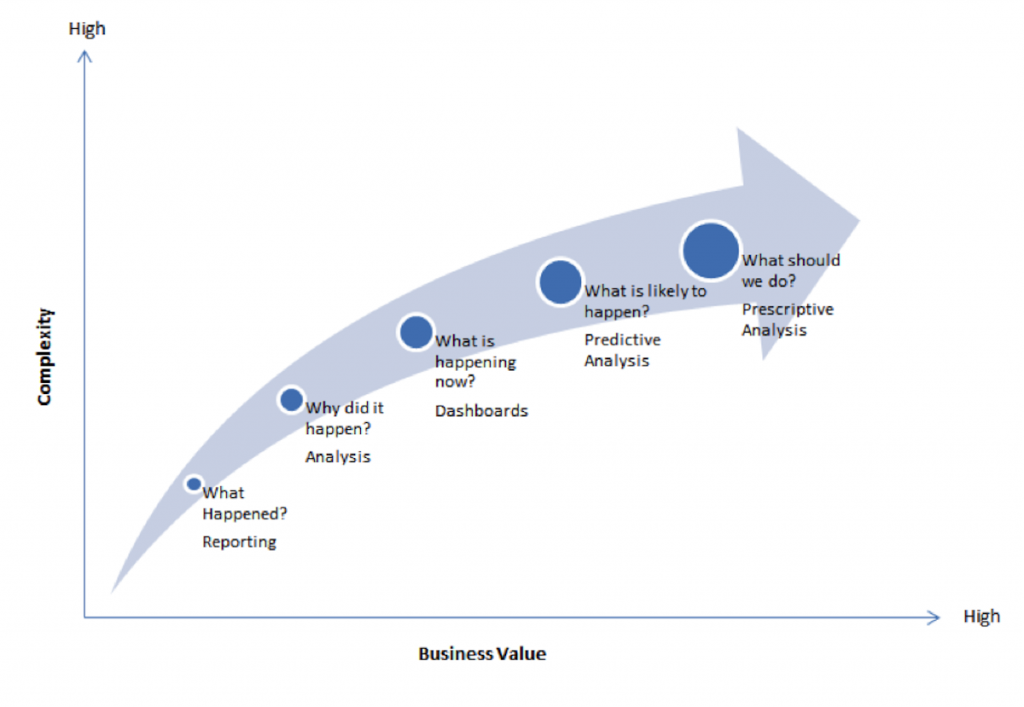 But BI and the underlying analytical technologies are evolving again, enabling much more emphasis on Predictive Analysis and Prescriptive Analysis capabilities which in turn drives higher business value and benefit.  The driver for this progression is Big Data…
So how does Big Data align with ERP?
To date, the bulk of the data that an organisation managed was their own internal, structured data produced by their own business systems such as ERP, CRM or similar. But one of the key changes emerging with Big Data is that organisations now also have to contend with the growing volume of unstructured, and often external information too. This is emerging from a variety of sources including social media, mobile sensors, and machine to machine communication systems.
The challenge for organisations is how to bring together disparate, external, unstructured data feeds with existing ERP info and analyze everything to improve decision making and business performance.
Part of the challenge is about the 'How'. The technology, the solution, the integration.  The conundrum is that for decades now, most business information goes through ERP. It's the central data hub, it's the backbone of the business.
So shouldn't we integrate ERP and Big Data?
But ERP systems can't handle Big Data at the moment – whether that be the complexities of manipulation or the sheer volume. For the time being, they will remain as separate systems. ERP is really just another information source for a Big Data system. And likewise, the output of a Big Data system could feed into an ERP. It'll probably take a few more years yet before they become truly integrated systems, but businesses can still benefit from separate systems in the meantime.
But the other part of the challenge is more about the 'What'. And that's really the bit we're more interested in. It's about really understanding:
What opportunities does it open up for your business?
Are there benefits and value it can drive for your business?
What performance improvements can it deliver for your business?