All ERP projects are complex and come with risks attached, whether that be an implementation or an upgrade. The size and scope of a project is likely to go through many iterations as you progress with it. All these changes make it hard to meet resource demands as well as meeting time and budget constraints.
As a business, you cannot afford the loss in productivity that can come with implementing a new ERP system. Therefore, many companies choose to work with an independent ERP consultancy, like ourselves, who can help to mitigate the risk of disruption to business as usual. We live and breathe ERP projects – so tapping into our project management, change management and solution management expertise can accelerate results and increase the chance of a successful ERP implementation.
Whether you choose to work with an independent ERP partner or go it alone, there are a multitude of things to consider before starting an ERP project. While we could list hundreds, we have narrowed it down to the top 5.
To get a better understanding of what Enterprise Resource Planning is, check out our ERP Guide
1. Defining the Business Requirements and Scope
Often this can be one of the most difficult things for businesses who decide to undertake an ERP project in-house. Setting out clear requirements for what the system must do requires a deep understanding of business processes along with how users of the system work.
Considering every function of your business and how these all interact takes considerable effort and translating that in to People, Process and System requirements takes a particular skillset and breadth of experience. Sometimes the ability of the internal team to look beyond the "As Is" and define the improved "To Be" can be a challenge.
Investing the time and effort up front in getting a strong grasp and definition of your business requirements and scope will be key to success. Note that we are talking about business requirements at this stage – take a business led approach. Define your business requirements first and then this will inform what the system requirements are. Don't fall into the trap of engaging an ERP vendor first and then trying to work out what you need the system to do – unless you have very flexible budgets and timescales.
2. Managing Budget and Time Constraints
Managing budget and time constraints are key challenges with every ERP project. First, pinning down a realistic budget that matches your scope and ambitions can be difficult. Aside from the technology costs, you have to account for many variables such as licence types, user numbers, custom modules, and cloud vs on-premises. There is also the associated implementation services costs which can be difficult to estimate up front and needs considerable management from your own side to control as the project progresses. So, it can be difficult to nail down a realistic budget particularly if you have not experienced many ERP implementations. And this is before you consider the resource cost of internal staff members helping with the implementation and the lost productivity.
Second, delivering an ERP project on time is notorious for its difficulty. It needs adept and experienced project management. Just because your team might be the best operational people, doesn't mean they will be strong project managers. Another trap to avoid is assigning a key member of staff the project manager role and expecting them to do it alongside their day job. Again, unless you have very flexible budgets and timelines. The reality is that their day job will always take priority and when operational issues hit then the ERP project can come to a standstill.
The best way to prepare a budget and timeline is to be realistic. Take time to research typical costs of solutions and ensure they meet your needs now and in the future. Also, ensure you get a full and realistic picture of all costs, not just for phase 1 but beyond. Get a feel for typical ERP vendor implementation times for your size of project, understand their current resource availability and project demands and factor in business seasonality and holiday periods for your own resources. Remember that the people leading your change internally will often have other tasks to manage too. Always consider how this will impact your ERP project when selecting key goal dates.
3. Look at your Current Systems
One of the first steps when considering an ERP project is looking at the current systems that are in place. While a new ERP solution can often seem like the only approach, it may be possible to upgrade or optimise. Upgrading by adding in extra modules might be a cheaper, and easier alternative to a full ERP replacement project. You could even achieve better utilisation by optimising the processes and ensuring all the built-in options are being used to their full potential. Sometimes a lack of understanding and training can lead to features going unused that could boost productivity.
Even if your current solution can't be upgraded, it is worth understanding how staff members use it. Take time to observe and interview the most frequent users to see how they work and what they need the system to do. Internal manuals may lay out how to use the current system but often those using it daily will have formed their own methods and work arounds for common scenarios.
To fully understand your current systems, you should ensure you take a holistic approach. Understanding how departments interact, or don't, can be a deciding factor in upgrading or implementing a new system. The deeper your understanding the better solution you can put in place.
4. Building a Team
Ensuring that the team you put together have the skills for a change as large as an ERP project is vital to success. With so many moving parts and departments, you'll need a varied skillset across team members.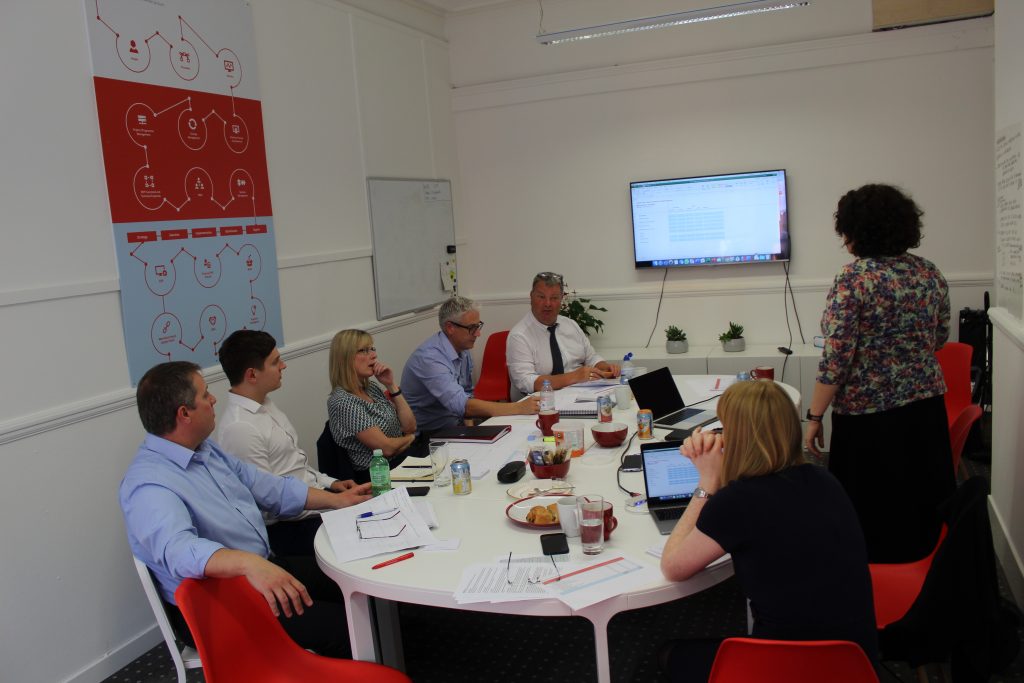 First, someone who has strong and relevant project management experience is incredibly important. Leading a team is difficult at normal times before adding in the stress of a business-critical ERP project. An experienced project manager will bring the skills to keep everyone on track and working towards the same goal while providing accountability for the success of the ERP project.
Second, having a group of people who are subject matter experts (SME) will provide insight into unique business processes. These are people who spend most of their time working on the project and have superior knowledge of current processes. This team will ensure the new system is configured in a way that is usable within your business. Furthermore, they will be the users who test the new system with real world scenarios and assist in the training of other staff members. Having people who can work in teams and communicate is vital to ensure project success.
Finally, key users will be needed from the early stages of an ERP project. They work with the SME to define business processes and highlight their needs from a new system. Getting participation from this group early can help to combat resistance to change which can cause new ERP systems to not be adopted well. This team will also help during the validation stage towards the end of a project.
This is the minimum you would be looking for in building a team to deliver an ERP project. You want to ensure a mix of skills across each member of the team to mitigate the chance of project standstill in the case of sickness or absence.
5. Understand What an ERP Vendor Will Do
This is something that many companies setting out on an ERP project overlook. While they work with an ERP vendor, they often find it difficult to understand what their responsibility is and what is the vendor's. This often causes frustrations and issues as the project progresses. Certainly, at the outset businesses sometimes don't appreciate what the ERP vendor will do as part of the project delivery and what they will be expecting you to do yourselves.
This can cause confusion, delays, and budget/timeline disruptions. Make sure you have open and transparent discussions up front with your chosen ERP vendor. This will help you avoid any nasty surprises once implementation has begun. And make sure you have the right resources and skillsets in place at your side to deliver the ERP project.
Conclusion
We have only covered a few of the areas to consider for an ERP system implementation or upgrade. While it is an incredibly complex process, forward planning and investing time and effort up front goes a long way in successful ERP implementations.