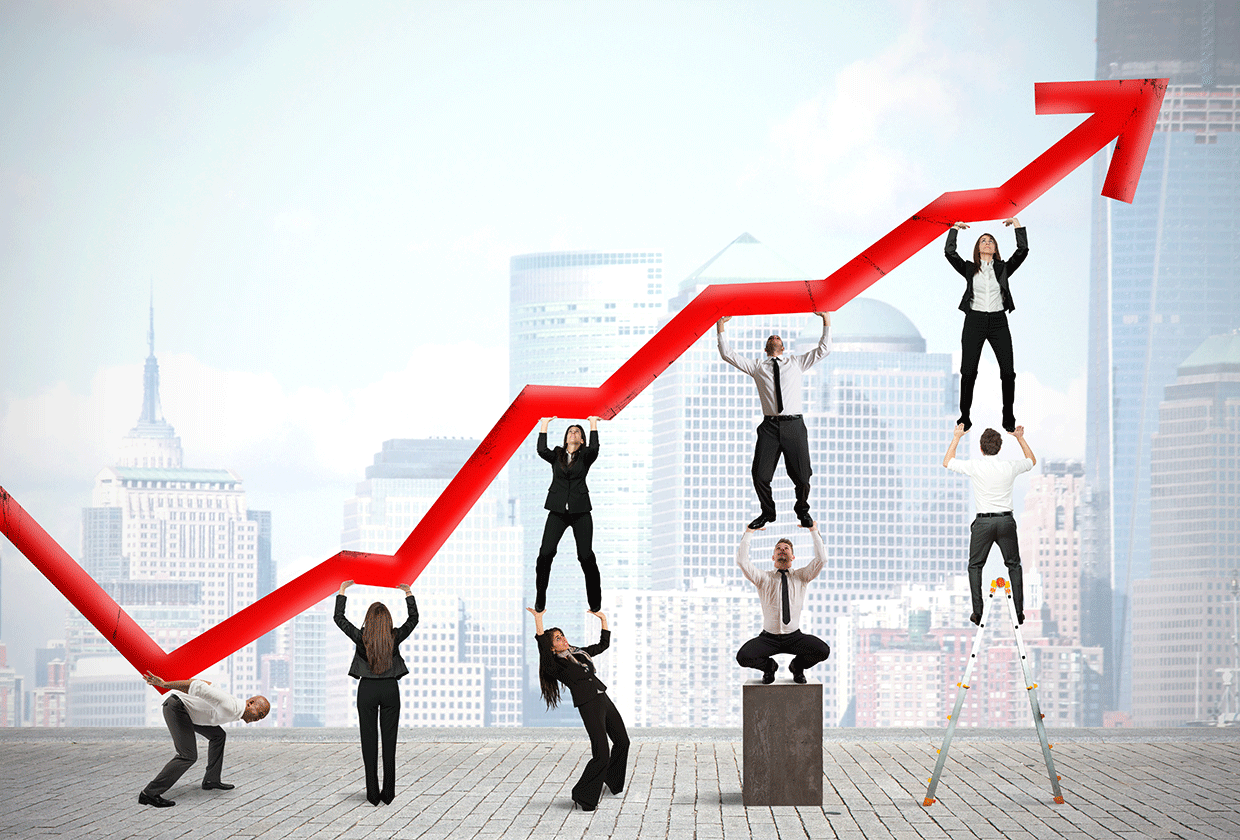 As your business grows, there comes a point when the reliance on manual processes and lack of joined up systems become a real risk to your success. Old ways of working begin to hamper business growth instead of supporting your efforts. At this point it becomes important to consider the benefits of ERP by looking at system solutions that can support your people and processes, to get you back on track as a growing business.
Firstly, let's look at some of the key indicators that suggest it's time to consider an investment in ERP:

1. Teams working in silos
If you start to notice that your teams are not communicating and sharing data, then they are likely working in silos. This reduced access to information can hamper business growth as well as lead to slow decision making across the company.
2. Operations being run on spreadsheets
Many companies work in this way and open themselves up to serious mistakes. As spreadsheets become larger, they are more difficult to manage and ensure that the information entered in them is correct. Furthermore, teams might work from different versions of the same spreadsheets, leading to information being incorrect.
3. Dependency on a few key individuals
Relying on certain individuals who know current business processes or ways of working is a ticking time bomb. Your business can be crippled overnight should the individual leave or have an extended period of absence.
4. Processes have grown organically, not properly documented or understood
Without documenting ways of working it becomes difficult to train new staff and understand how your company is working. This also leads to problems with trying to update your processes to get the most out of your ways of working.
5. Increasingly difficult to gather and interpret data and make timely decisions
This links back the problems that arise from point 1 & 2. Spending time understanding data slows down your decisions which reduces their value. The advantage of being a smaller business is the ability to adapt, which is lost with slow decision making!
6. Any existing systems are disconnected and disparate
If your systems aren't communicating, then they suffer the same issues as teams working in silos. They are unable to provide a complete picture of everything happening within the business and have little value.
7. Time increasingly spent on reconciling and moving data around
Data quickly builds up. It is difficult enough to understand before having to spend time moving it between systems and teams. Wasting time here is another way that you lose the advantage of quick decision making.
8. Unable to get a holistic view of business performance in real time
Getting all the information about your business at any time provides a massive boost. Being unable to access this type of view will increase the chance you miss key information that could be the difference between profit and loss.
9. Service levels are dipping
As your team take on more responsibility of rapid growth it can start to hit the level of service. This can cripple your business if customers no longer feel valued and take their custom elsewhere.
10. Costs are growing, margins are eroding
You may be growing as a business but seeing profits drop as your margins are worn down with poor processes. Poorly managed costs only compound over time and are amplified by poor processes that don't work for your business.
Recognise some of these in your business?
The key is to be aware of them and act early – don't wait until all of them are a reality and it's gone beyond being a risk to being a real, live problem. It's much easier to address these and implement change from a position of strength – rather than in crisis mode.
Knowing you are suffering from these issues is the first step in making changes to address them. ERP can often be the answer as many of the key benefits of ERP address these growing pains:

1. Joined up teams
ERP will help bring your teams together with new ways of working and better access to the information they need for their jobs.
2. Joined up processes
Similar to how teams find new ways of working, processes being joined up allow new business opportunities to appear.
3. Automation of manual tasks
Free up employees time by reducing or even eliminating the manual tasks they must do each week. This allows them to focus on other areas of the business as well as reducing the monotony of their job.
4. Improved data quality
Not all data is equal. A new ERP system will help you see the value of having data that is high quality, timely, and relevant.
5. One version of the truth
Cut out the risk of multiple spreadsheets and ensure everyone is working for the same information.
6. Real-time information
Enhance the way you make decisions by getting information that is up to date. With access at any time and from multiple platforms, you can stay on top at every stage of your business processes.
7. Improved service levels
By spending less time gathering, compiling, and reviewing information you can spend more time on delivering a service that crushes the competition.
8. Reduced Costs
Often seen as the main benefit of an ERP system is its ability to help you manage costs. Better tracking of stock and how it is used is just one of the ways it helps to manage your costs and bring them down
9. Improved profits
From the reduced costs to the increase in time that has been freed up, you'll have more resources to make smarter, faster decisions that boost your profits.
10. Reduced business risk
Never miss anything with your up to date information that can help you plan for emergencies before they happen, helping to reduce your risk profile.
Realising these benefits of ERP though isn't quite as simple as just buying some software. That's the easy part. Please, please don't fall into the trap of buying software first – then trying to work out what to do with it!
Are you implementing a new ERP system as part of a wider Group strategy? Or perhaps you are looking to redesign your own ERP system landscape? Get in touch with us to see how we can help you. Our independent and impartial project managers and ERP experts have the experience and expertise to ensure successful and effective change is delivered and you get the real benefit of ERP.